Collaboration with Fatima Hussain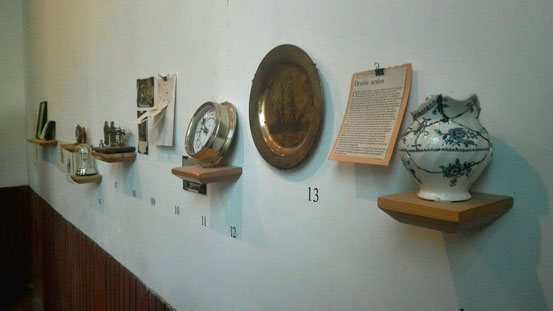 At The 70s: Pakistan's Radioactive Decade 2016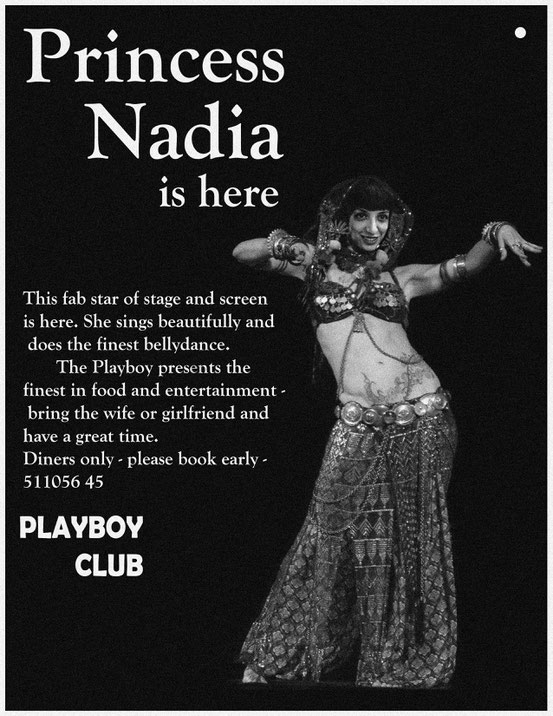 Cow Heart on Ceramic Plate, Cutlery and Patterned Tablecloth
At Dreamscape, two hours of performance and installation art at the Amin Gulgee Gallery, December 2014.
Art Education Outreach Workshop
Chitral, 2011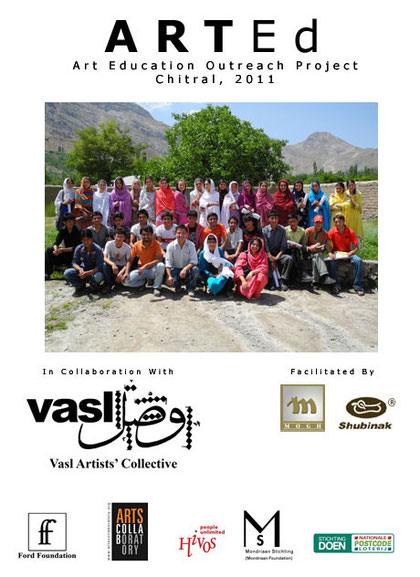 ARTEd is an endeavor to impart basic art education to young people in remote areas of Pakistan. This is our second outreach activity. The idea was imagined by Aleem Dad Khan, a visual artist and art educator and further developed by Nadia Hussain (also, an artist/art educator). Both live and work in Islamabad, Pakistan. ARTEd is a voluntary education endeavor.
The ARTEd Outreach Workshops were designed to build an environment for cultural exchange and art education where it is not easily available, specifically in the mountain regions of Pakistan. The objective of the Chitral workshop is to create awareness and an understanding of art-making at the basic level for the young people in that area. The workshop has also been designed to introduce art as a profession to those young people. Mehrbano Khattak, a graphic designer and art educator is assisting us as a guest working member for this project. This workshop has been made possible by the VASL Artists' Collective and our facilitators, Mogh Limited and Shubinak. Special thanks must be awarded to Adeela Suleman and Gemma Sharpe at VASL for their support and encouragement and to Israar Saboor who has been very kind to facilitate us at every step. Also, we owe thanks to the wonderful and kind people at Clean and Green Chitral (Chitral Heritage and Environment Protection Society) who assisted us during our 5 day workshop in Booni.
Postcards in The Time of War
2010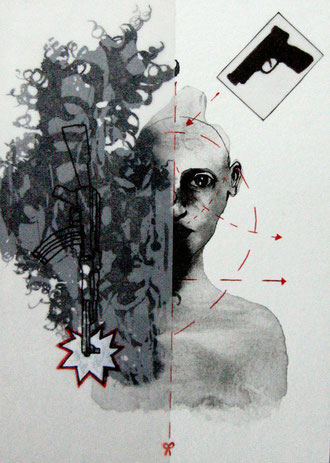 "Six artists from Pakistan, responding to an environment of fear, have created these postcards. These postcards have secret messages as visuals based on the connections we have with each other. We are of various ethnicities and areas of Pakistan and have become close friends as we are all art-educators, working in a college campus together in the heart of Rawalpindi, where terrorist activity has literally destroyed our way of life.

"This project began in the faculty lounge of the college campus, while we were sitting together and talking about what our lives have become because of this strange war with its random acts of terror. We realized that we didn't know if we would even make it to the next day. Also it turned out that we all have a lot to say to each other about our connections and this crazy world.

"These postcards are secret visual messages we wanted to send to each other, from a sense of anxiety and fear coupled with the will to keep going no matter what. In a way we are strengthening our connections which are so fragile because our very lives and our hopes are threatened every day."

- Nadia Hussain
http://twelvegatesgallery.com/postcards0310.php
The following is my contribution to the project: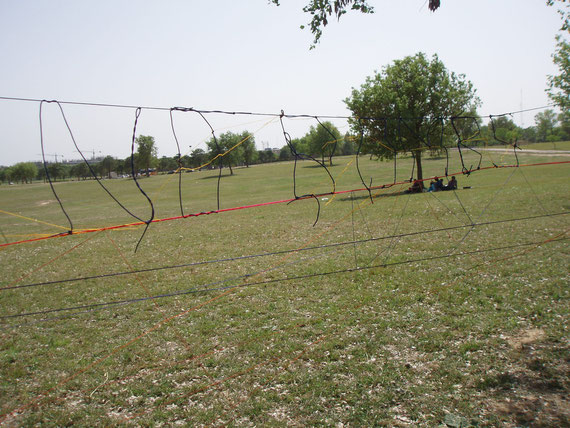 This was a group collaboration which involved the students from NCA Rawalpindi (class of 2011) at the F-9 Park in Islamabad. The project involved creating a three dimensional drawing in a selected area of the park. The drawing soon turned into a plea for an end to violence and terrorism. Eventually, a few young boys from a nearby madrassah joined us in our efforts with messages of peace.
By evening, our installed drawing was rudely dismantled by some men who were not park officials.
This project was a part of a 2nd Year drawing class. We were accompanied by Sana Arjumand, a visual artist, living and working in Islamabad.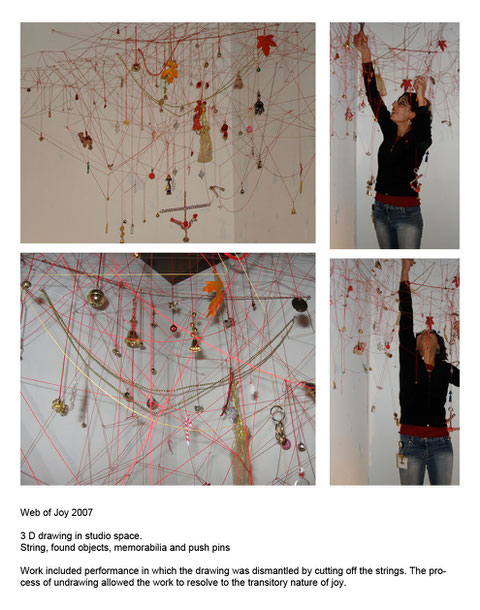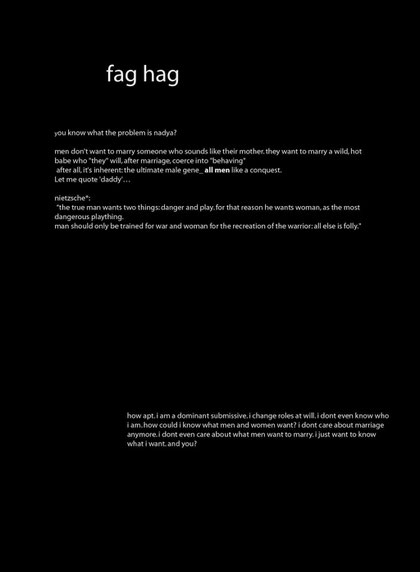 Fag Hag was a collaborative effort between Navin Hyder (now living and working in Ireland) and Nadia Hussain. This work was started in the end of 2005 and completed in 2006. The work is about a dialogue between the two artists while they were living in Karachi.
Fag Hag was displayed at the National Art Gallery in Islamabad in its inaugural show in 2006. Unfortunately, the title was changed to A Girl called Nadia and A Girl called Navin: Conversations in Black and White.